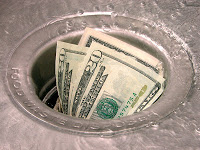 That is correct!!! One million dollars can be the cost of a failed global assignment, so come to the March 27 meeting and learn how to minimize the risk of assignment failure by supporting the employee and their family.

Best practices for expatriate support both prior to and during an overseas posting will be showcased by Evgenia Rozenfeld , Manager of Shell's Expatriate Settlement Group in Texas, based at Shell Outpost Houston. Outpost, a professional global support network run by and for all Shell employees and their families offers unique support to help employees, their partners and families with the challenges of global mobility. Evgenia and her team are providing a wide range of services to over 650 expatriates and their families and she will explain how expatriate recruitment, retention, and productivity can all be improved by supporting not just the relocating employee but also the accompanying family.
Relocating a dual career couple presents unique challenges. Loss of spousal income and career concerns are the #1 reason for assignment rejection and 30% of early returns are due to spouse career issues. It pays to get it right! Strategies for supporting the accompanying spouse/partner who wishes to continue their career in the new location will be presented by Jackie Verity, Career Coach and owner of Kaleidoscope Careers. Jackie will offer insights into both the emotional and practical issues facing the dual career couple and how obstacles can be overcome, ensuring a fulfilling overseas experience for both employee and spouse/partner.
Our Presenters:

Evgenia Rozenfeld came to Houston Outpost after having worked internationally with PricewaterhouseCoopers and several major Russian companies in Moscow, Russia. She is certified both as PHR and GPHR and has an MS in Economics & Industrial Management from Moscow National University of Science and Technology.
Jackie Verity has worked in career coaching since 2003. She works with a diverse range of clients in transition but specializes in career advice and employment assistance for the relocating spouse/partner. Prior to working as a coach, Jackie's career was in Human Resources and she has lived and worked in the UK, US, France, Germany and Belgium. She has a BA in French and German from Oxford University and an MBA, specializing in International Human Resources.
Please join us on Facebook and Twitter.

 2013 Membership Information is available here.
Host Sponsor - Deloitte Tax LLP
Please contact us regarding other sponsorship opportunities.